We're Getting Mutants in the MCU - The Loop
Play Sound
DmC: Devil May Cry

Official box art featuring protagonist Dante
Developer
Ninja Theory
QLOC

(PC)

Publisher
Capcom
Designer(s)
Alessandro Taini
Writer(s)
Tameem Antoniades
Composer(s)
Noisia
Combichrist
Engine
Unreal Engine 3
Platform(s)
PlayStation 3, Xbox 360, Microsoft Windows
Release date(s)
PlayStation 3 & Xbox 360


WW

January 15, 2013


JP

January 17, 2013
Microsoft Windows


AUS

January 24, 2013


WW

January 25, 2013
Genre(s)
Hack n' Slash / Action-adventure
Mode(s)
Single-player
Rating(s)

ESBR

Mature


PEGI

16+

Media
Blu-ray Disc, DVD, download
Website
devilmaycry.com
DmC: Devil May Cry is an action-adventure hack and slash video game developed by Ninja Theory and published by Capcom for PlayStation 3, Xbox 360 and Microsoft Windows. It is the fifth installment of the Devil May Cry series, serving as a reboot. Announced in late 2010 during the Tokyo Game Show, the game is set in an alternative reality in the Devil May Cry series. This reimagination was requested by Capcom resulting in the game being made from a Western perspective in contrast to previous games. Capcom also assisted Ninja Theory in the making of the gameplay in order to be reminiscent to previous games. Initial reaction to the title was widely negative as a result of Dante's redesign; nevertheless, DmC received positive reviews by gaming websites who praised the gameplay and story.
Plot
[
]
The story takes place in Limbo City, a modern-day city secretly controlled by all-powerful demons, manipulating humanity through the comforts of life, with the demons themselves living in a parallel plane called 'Limbo'. Living on the fringes of the brainwashed society is Dante, a young man at odds with the demons who constantly hunt him, but also the civilian authorities they control.
After a raucous night of booze-fueled promiscuity, he has a fateful encounter with a young woman named Kat. Soon after that, Dante will find himself uncovering the secrets of his past, his demon/angel heritage and realise what truly means to be "human" in a world that's far more complex than meets the eye...
Gameplay
[
]
Players take on the role of Dante as he uses his powers and weaponry to fight against enemies and navigate the treacherous Limbo. Like previous games in the series, Dante can perform combos by attacking with his sword, Rebellion, and shooting with his twin pistols, Ebony and Ivory.
New to the series are modifiers to Dante's moveset, known as Angel Mode and Devil Mode, which reflects the protagonist's new Angel/Demon heritage. The player may access angelic or demonic aligned weapons with the trigger buttons. On one hand, angelic weapons are much faster in nature, and usually involve area-of-effect attacks. On the other hand, demonic weaponry tends to be slower, less combo friendly but always packs quite a punch.[1]
When enough power has been gathered, Dante can activate Devil Trigger mode, which slows down time around him and levitates enemies into the air, allowing him to perform much stronger attacks.
DmC: Devil May Cry has a much heavier emphasis on the environment than its predecesors, where the city itself is one of Dante's greatest adversaries. With roads giving way to nothingness, and alleyways closing off, Dante must fight not only the demons that appear, but also Limbo itself. This creates hectic obstacle course sequences that involve jumping, air dashing, and grappling through areas, along with some battlefields containing hazards that Dante must avoid, but can also exploit.
Like previous games in the series, Dante can collect various types of demon orbs which can be used to recover health, purchase items and upgrade Dante's moveset.[2]
Development
[
]
The Japanese Capcom staff told Ninja Theory to make a DMC game with a different direction. Although their previous game, Devil May Cry 4, was a commercial success, the staff thought about rebooting the series taking into account how other game series had better sales.[3] They chose Ninja Theory, impressed with their work on Heavenly Sword which the staff thought would work with a Devil May Cry game.[4] Ninja Theory's creative director, Tameem Antoniades, stated that DmC's combat system would contain mechanics that would set him apart from previous Platinum Games' titles with Platinum's Hideki Kamiya being the creator of Devil May Cry. Lead producer Alex Jones stated they still wanted to compete with Platinum in terms of gameplay and storytelling. The idea of a town being alive that wishes to kill the player was added a new element never seen before in the Devil May Cry series.[5] The actions of Limbo Town are inspired by previous Devil May Cry games, where the environments would close whenever Dante was surrounded by enemies. Combat designer Rahni Tucker commented on how newcomers to the series have difficulties understanding how advance players from the classic Devil May Cry games could perform several combos that combined multiple skills and weapons. As a result, she designed the combat to be appeal to newcomers so that they could easily perform elaborated combos, while still offering gameplay that advance players would enjoy.[6]
Most of the game was finished as of April 2012 with Capcom aiding Ninja Theory in tweaking few aspects for the final product. Capcom became heavily involved in the combat system to ensure the character's responsive moves and add new air combos never seen before in the franchise.[7] The development team included over ninety members with nearly ten of them being from Capcom, as they wanted to aid the Ninja Theory developers in making DmC play more like the previous Devil May Cry games. DmC is also the first Ninja Theory game written by Tameem Antoniades.[8] Dante's original design was originally meant to be similar to the ones from previous games, but Capcom told the Ninja Theory staff it had to be completely different in order to appeal to a younger demographic. While the original Dante was design from a Japanese perspective, the new one was made from a Western perspective, much like what Zilla was to Godzilla.[9]
Soundtrack
[
]
The music for the game was composed by electronic groups Noisia and Combichrist and it's divided into three albums. The official soundtrack features both Noisia, Andy LaPlegua and Combichrist; while the other two feature tracks performed by Noisia and Combichrist respectively.
The Chronicles of Vergil
[
]
The Chronicles of Vergil is a two part comic series tie-in previous to the events of DmC, whose story revolves around the initial relationship between Kat and Vergil. Kat, who does not understand her psychic powers, is tracked and found by Vergil at a Virility factory. With Vergil's arrival, Kat is arrested and held under suspicion of aiding the "masked terrorist". Now dragged into Vergil's schemes, Kat will have to help Vergil find information about his long-lost brother, Dante.
The story was written by Guillaume Dorison and illustrated by Robin Recht and Patrick Pion. The first of the two issues was released digitally by Titan Comics on January 24th, 2013 followed by a print version on May 15th and June 19th.
Reception
[
]
Before the game was released, initial reception to the new design of Dante and change in direction of the series was negative.[10] The series' original creator, Hideki Kamiya, was pessimistic about the game's direction and stated he was "missing" Dante although in later tweets he expected people to try the game.[11] Video game publications 1UP.com and GamesRadar found such claims exaggerated with the former finding the demo's gameplay and humor enjoyable and the latter being optimistic about how the release of the game could affect the franchise.[12] Various other sites also listed it as one of the most anticipated games of 2012 stating that despite the controversy the game caused, it looked promising owing to the presentation and the fact the gameplay had yet to be tested.[13] On September 2012 Capcom US producer Alex Jones claimed that some of the negative response had turned positive.[14]
DmC: Devil May Cry received an aggregated score of 86/100 on metacritic.[15]
Vergil's Downfall
[
]
On March 6, 2013, a piece of downloadable content, Vergil's Downfall, was released. The DLC added a new section in the main game, giving players a new single-player campaign featuring Vergil as the main character.
Aside from playing as Dante's twin throughout the content, Vergil's Downfall features additional hidden items to collect, two new enemies and a new boss, and has a leaderboard with which to compete with others. The content also comes with four difficulty levels, new combos, and new locations. Vergil uses many of his traditional skills, including several based on Slash Dimension, Air Trick, and Summoned Swords, and is able to use Devil Trigger to generate a doppelganger.
Plot

[

]
Vergil's Downfall is an epilogue chapter to DmC that tells the story of what happens to Vergil after his final battle with Dante. Fatally wounded, Vergil makes it back to Paradise but staggers to his mother's grave. As he rails against his failure, he succumbs to his injuries and collapses, falling into Hell. He soon becomes aware that his pendant is missing, and also hears a cryptic message from his departed mother that he can still find salvation for his tortured soul, should he follow the light...
Reception

[

]
Upon its release, Brad Gallaway from GameCritics praised Vergil's fighting style, and noticed "how different the two brothers feel in combat".[16] Destructoid's Chris Carter congratulated Ninja Theory on balancing the character, as "you have to use all of [Vergil's] arsenal [...] he also has more than one Devil Trigger ability, and far more interesting than Dante's time stop" while also acknowledged that "...Vergil, unlike every character ever in DmC, eventually ceases to be melancholy and annoying, and embraces his inner demon. To drive this point home, you unlock a new skin that re-titles Vergil's old look as 'weak Vergil'. Yes!" [17]
All in all, Vergil's Downfall received a good response with an aggregated score of 68/100 on Metacritic.[18]
Trailer
[
]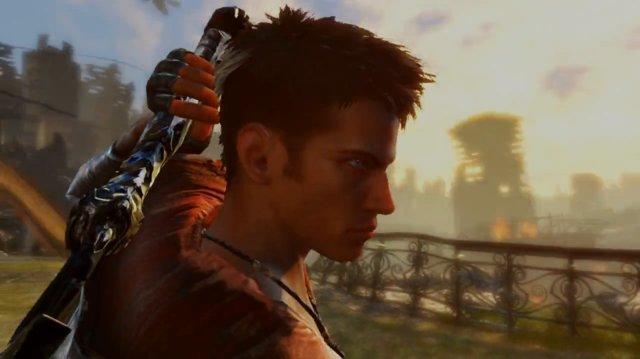 References
[
]